How To Manage Coronavirus Impacts On Your Restaurant
Coronavirus pandemic and its impacts have made us all change our perspectives on how we should look at things and the way we are spending our lives each day. In a single day, the Coronavirus for the health and safety of their people. It is a threat to the public health and health care systems in all countries. Business is also affected by this pandemic since current scientific studies show that the virus can live up to 3 days on steel surfaces, 72 hours on plastics, and 96 hours on Glass. These findings make it hard for any business to operate because we all practically use the mentioned surfaces in our dwellings. Almost all equipment used in restaurants is made of those materials, including delivery and takeaway food packaging. Add to it that there is currently no known cure for the virus and many governments have already implemented community quarantine or lockdowns and social distancing in their countries.
For more detailed information on the Coronavirus pandemic, read this post.
This time proved to be a challenging and depressing one for restaurants. In this post, we will help you navigate the following:
How you can manage the impacts of Coronavirus pandemic on your sales.
The different strategies to run your restaurant operations despite the Coronavirus.
How you can ensure productivity at your restaurant during lockdown.
The things you need to prepare after this crisis is over.
We know that you got a lot of lists to your checklist on how you can still make the best out of this pandemic to your restaurant and sustain your business growth as well as cater to your loyal customers. But you should consider the essentials and urgent first to your checklist.
Managing The Impacts of The Coronavirus Pandemic on Your Sales
Your restaurant sales sustain your operations and are your reward for your great customer service. You can already observe its decrease during the Coronavirus pandemic. This is because the dinning segment of your restaurant cannot be offered due to social distancing and lockdown policies. Even though, it's frustrating to see your large and always full dining segment without customers. The following are the things you can do to still generate revenue to your restaurant:
Focus on your delivery and cloud kitchen segments
You need to adjust to the present condition of your restaurant operations and accept the reality of depending only on your delivery and/or cloud kitchen segments for revenues. Its time to unlock all the potentials of your delivery and cloud kitchen segments. Start by checking your retail trade area and reviewing your previous delivery orders. You can maximize both by focusing on the areas you always receive your orders from. This way, you're leveraging on your current loyal customers and sending them a message that you care for their well-being and steady food supplies.
Check your manpower cost versus your sales
This is another important factor to consider in order to sustain sales and manage costs while running your restaurant. Look at your staff scheduling, review It, plan it, and plot it accordingly depending on your current sales. You should consider that your dining area is no longer functioning at this time so you can transfer your dinning staff, depending on their skills, to other areas of your restaurant that lack manpower. You can also install automated productivity tools and apps in place of manual labor
Install automated productivity tools and apps in place of manual labor
It's important to take the time to search for new saving tools that will automate some of the manual labor in your system. For instance, you can install an automated payroll system to your restaurant instead of assigning your managers to do it in a payroll template. You can also search for productivity tools that will help you manage your restaurant; such as Trello, Basecamp and Asana among many others. This way, you can focus on attaining your sales goals despite the Coronavirus business impacts on your restaurant.
Capitalize on your online ordering system
This is the best time to capitalize on your online ordering system. Your food ordering technology should be enhanced to cater to your customer needs even more during the Coronavirus pandemic. Ask your provider to look into new themes that make your website more engaging for customers to shift their focus on your food offerings instead of the Coronavirus. It's the perfect time to entice people to your restaurant and make long-term loyal customers of your own.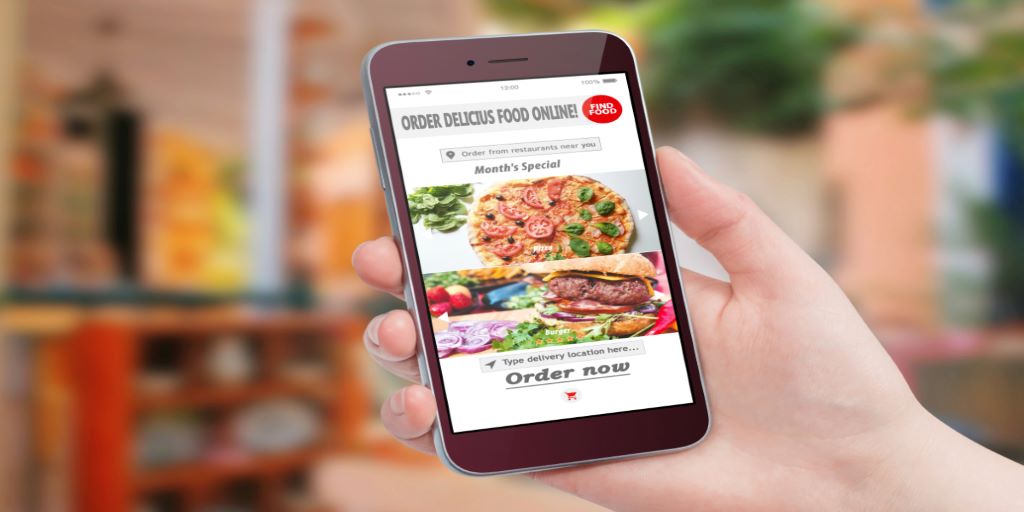 Focus on digital marketing for your customer reach and conversions
Since it's lockdown and no one is allowed to go to their favorite leisure destinations like malls and resorts, everyone turns to the digital world for their enjoyment and social connection. This pandemic has transformed how we communicate and connect with people; as now the trend is to use modern technology to connect with others. It is also the right time for you to use digital platforms for both your marketing and sales initiatives. The more you're able to engage your customers in the digital world, the better you will sustain your sales and brand. It is important to set-up your digital marketing team to engage customers and lead them to your restaurant.
For more information on using digital marketing & leveraging on food ordering for your restaurant branding and growth, read this post.
Engage your customers on social media
Everybody is active now on social media, as it's the medium for connecting and having fun while we are all in a lockdown situation. Take advantage of this trend and connect with your customers by intensifying your social media presence. You can schedule daily posts to your social media accounts informing your customers of your new menu, or just make them relax despite this crisis. You can also ask them what foods they are craving in their homes then use this information to offer your menu or create one to suit their demand. The opportunities of social media to your restaurant are unlimited. All you need is the right way to effectively use them to your advantage.
Different Strategies To Run Your Restaurant Operations Despite The Coronavirus Pandemic
As a restaurateur accustomed to dealing with a lot of people including your staff and customers, you might find operating your restaurant very different because of the Coronavirus pandemic. There is no need to worry because we are here to guide you with different strategies that you can employ to your restaurant including the following;
Ensure safety and sanitation of your entire team and restaurant premises
To minimize Coronavirus impacts on your restaurant always maintain proper sanitation and workers' safety. Food sanitation means protecting it from contamination. With this in mind, all functions and operations must be included in a sanitation program. All food products must be protected from contamination from receiving (and before) through distribution. Sanitation is a dynamic and ongoing function and cannot be sporadic or something that can be turned on once a day or week, etc. Therefore, another definition could be "sanitation is a way of life".
According to the WHO (World Health Organization) sanitation includes the safe management of solid waste and animal waste. Inadequate sanitation is a major cause of infectious diseases such as cholera, typhoid, and dysentery world-wide. It also contributes to stunting and impairing cognitive functions and has impacts on well-being through school attendance, anxiety and safety with lifelong consequences, especially for women and girls. Improving sanitation in households, health facilities and schools underpins progress on a wide range of health and economic development issues including universal health coverage and combatting antimicrobial resistance.
In a nutshell, ensuring that you have got an efficient and revised sanitation program in place for your restaurant will minimize the impacts of the Coronavirus pandemic.  Plus, making your employee's safety a priority will also help sustain your operations.
Areas you need to consider for your sanitation program
It is crucial to ensure all your food production areas are well sanitized and organized so that you can maintain your customer's confidence in your restaurant. This includes kitchen areas, especially your stove and assembly lines, as well as your storage of both wet and dry stocks.
Plus, handwashing is a must for you and your team. You should remind yourself as well as your team to wash your hands on a regular basis. Better yet, you can designate a person for the job and put a timer for handwashing in your restaurant.
Your doorknobs, POS machines, menus that customers have touched, and staff should be sanitized to avoid contamination from the Coronavirus.
Delivery areas should always be kept clean as well as away from pets which can be potential virus carriers.
Delivery boxes and food packaging should be stored in one of the areas for sanitation, a clean and dry place.
Additionally, all your delivery motorcycles should be clean and sanitized before and after each delivery; and the same goes for your delivery people. You should learn proper scrubbing like hospital personnel and make it mandatory for your delivery employees before and after each delivery.
Inspect your restaurant premises and identify areas where you can make some small improvements
Admit it or not, during normal circumstances you might fail to find small details that need repair; such as a hole in your roofs, cracks at your office, or misaligned kitchen tiles that need to be fixed in your restaurant. Take this time to take a closer look at your restaurant premises and identify the areas that need mending, then assign your staff to do the work.
Research on new menu items and services that you can offer your customers
You can engage your Chefs, Managers and Kitchen personnel to research and make a trial of a new menu to add to your restaurant. This is a good strategy for preparing when things go back to normal and for enticing your customers to support you, even during this pandemic. A good restaurateur like yourself should be able to offer a new menu despite the crisis.
Consider converting to a cloud kitchen instead of maintaining your complete segments
Since the dining and takeaway segments of your restaurant cannot be utilized, you can consider changing for the meantime to a cloud kitchen. By focusing only on delivery, this will save you a lot of costs which is very important in this present time.
To learn more about the different cloud kitchen models to consider in your conversion; read this post.
Ensuring productivity during lockdown at your restaurant despite the Coronavirus pandemic;
Although Coronavirus impacts on restaurants are unprecedented you can still be productive during the lockdown. Here are some suggestions:
Take free online learning courses on restaurants
Search for an applicable online learning course that you can learn from in order to improve your restaurant and systems. Take this opportunity to take down notes and imagine aligning yourself with the learnings you get from these courses. You can even involve your entire team on this learning experience and gain team effort. This way, you'll have another effective way of keeping yourself busy and healthy despite the Coronavirus pandemic.
Orient and train your staff to obtain new techniques on customer service and product preparations
Involve your team and train them for techniques on customer service and product preparations. You'll find valuable and effective ways to save costs and advance your restaurant process and systems.
Search for new, modern looks and styles for your restaurant.
You can channel your productivity to evaluating your restaurant's interior and exterior for the better. You can start considering your lighting mix, dining seat arrangements, and delivery flow. You could also remove or add bricks and walls to your restaurant that best suit your style. Bear in mind that it's better to design your restaurant based on an ergonomic style so that you can offer a comfortable dining experience to your customers and staff.
Calibrate the business goal segments of your restaurant despite undergoing the Coronavirus pandemic.
Check your current segments and evaluate each segment's sales performance, then plan accordingly. You can adjust them based on your business goals; for example, you can check if revenues come from the dining segment during your normal operations and then calibrate your system in favor of your dining segment. You can also evaluate the other segments that might need improvement and check on the needed tasks to perform once you resume your restaurant operations.
Develop your logo based on your current restaurant services
One of the things that restaurants fail to look into in their branding, is their logo. Your logo speaks about you and the type of restaurant you operate. This is a good time for you to explore your logo and decide whether it still fits your restaurant or not. You can either improve its looks and colors or change it completely. There are many online providers of logo designs that you can engage for more ideas to choose from.
Add to your existing promos in order to lessen the Coronavirus impacts on your customers.
You can put more promos on your delivery and/or cloud kitchen. It's also a way for you to keep your loyal customers and gain new ones for your restaurant.
Things you need to prepare after the pandemic is over
Remember that this pandemic and the Coronavirus impacts on your restaurant will come to pass. When the Bubonic Plaques happened in Europe it was ultimately resolved as well as the rest of the public health crises that we've experienced in time.  You need to have trust in the human spirit, technology, and sciences that this Coronavirus pandemic will be eventually be solved and a vaccine will be developed.  While you are reading this post; scientists, medical doctors, microbiologists, and those in government services are working to find solutions to the Coronavirus, in both the laboratory and in the field of policymaking. Our human ingenuity and resilience will surely survive this pandemic.  As a restaurateur, you need to prepare yourself for after this crisis is over. Here are some of the following things you need to prepare:
Your restaurant checklist after this Coronavirus pandemic
You need to have your restaurant checklist that contains all the areas you need to check before opening it to your customers again for dining and takeaway orders. List all the things in your restaurant that you need to be restored, clean and replenished. Your checklist will guide you to prepare your restaurant once again to welcome your customers to your doors.
In case some of your personnel were not able to report due to lockdowns, check on their whereabouts and keep them informed on the resumption of your normal operations. Give them their schedule ahead of time so that they too can prepare and be able to report for work.
Check on your stocks and suppliers
You need to double-check your stock to reload it or find an alternative. Call or email your suppliers if they are already under normal operations so that you can determine the menu you'll be offering. The key here is to offer your house specialties because your customers surely miss having them at your restaurant.
Update the providers of your online ordering system and other restaurant technology.
You need to let your online ordering system providers, like Taker, visit you so that they can check on your system. The other providers of your restaurant technology should also check on your equipment and tools like your POS hardware and programs.
Coordinate with your restaurant organization for further updates regarding Coronavirus impacts.
Your restaurant organization is a helpful medium for you to communicate all your concerns, and will also answer your queries when you resume your normal operations. It pays to be connected with other restaurants for your safety and compliance.
Have a call to state regulatory bodies for your compliance before opening
Your government has taken a major role in controlling the Coronavirus pandemic; so it will surely take an active role in the resumption of finance and business, which includes restaurants. Check for any advisory online and give them a call for guidance on the things you need to do before the resumption of your restaurant operations. You don't want to be a violator once your business resumes, but a good model for others to follow. One of the important things this pandemic has taught us is the importance of compliance.
Install to your system and consistently implement your sanitation program
Your restaurant's sanitation program during the Coronavirus pandemic should be consistently implemented as your first defense against microbial infections and food contaminations. It is best to make it a regular habit and put it on your monthly budget. You have proven that your life, your team, and your customers are valuable and you should always keep this in mind. Ensure your sanitation program is in place and is consistently implemented.
Conclusion
We have given you significant information already on the things you need to know to face and lessen the Coronavirus impacts to your restaurant.  Everyone's efforts and cooperation are needed in these trying times. To answer government regulation while sustaining your operations is a challenging task for any restaurateurs like yourself. But it can be done and you can still sustain your restaurant sales and achieve your goals. What is needed from you is a little bit of creativity and thoughtful processing of the current situation?  We all need to contribute to the solution rather than prolonging the Coronavirus pandemic.  Given the brilliant minds we have and the survival spirit, we can win against this virus as we have proven in centuries past. We can lessen the Coronavirus impacts to your restaurant and we can successfully beat this pandemic.
We are all in this together!
---
If your restaurant is looking for an online ordering system
---